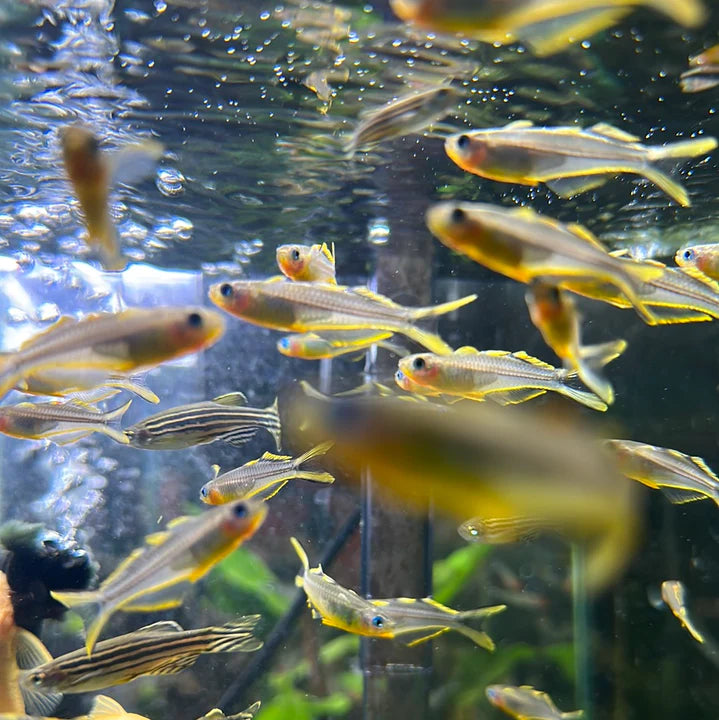 Posted on
---
Welcome to Monster Aquarium, your premier destination for aquatic wonders! Are you ready to add vibrant colors to your aquarium? Then you have landed to the right place because we have just what you need: Rainbow Fish! Now available for purchase at Monster Aquarium in New York, these stunning and captivating creatures are guaranteed to transform your aquatic world into a kaleidoscope of beauty and wonder.

Let's dive in and explore why buying Rainbow Fish in New York from Monster Aquarium is the perfect choice for any aquarium enthusiast.


Vibrant Colors: Rainbow Fish are renowned for their brilliant, shimmering colors. Their iridescent scales in shades of blue, green, yellow, and orange add a vibrant touch to any aquarium. Imagine the joy of watching these magnificent Fish gracefully swim through a sea of colors, mesmerizing you and your guests. Buying Rainbow Fish in New York from Monster Aquarium ensures you can bring this dazzling spectacle into your home.
Arowana Fish for Sale in New York: In addition to Rainbow Fish, Monster Aquarium offers Arowana Fish for sale in New York. Known for their majestic appearance and graceful movements, Arowana Fish are highly sought after by aquarium enthusiasts. Their elongated bodies and unique scales make them a captivating centerpiece for any aquarium. You can introduce an exquisite touch of elegance to your underwater kingdom by purchasing Arowana Fish from Monster Aquarium.
Expert Guidance and Quality Assurance: We prioritize the health and quality of our Fish, offering you peace of mind when you buy from us. Rest assured that your new aquatic companions will thrive in your care.
Creating a Serene Environment: Adding Rainbow Fish or Arowana Fish to your aquarium enhances its visual appeal and contributes to a serene atmosphere. These beautiful creatures bring a sense of calmness and harmony to your underwater habitat. Watching them glide through the water, you'll feel a sense of tranquility and escape from the hustle and bustle of everyday life.
Bottom line
Take advantage of the opportunity to bring vibrant colors and serene beauty to your aquarium. Visit Monster Aquarium today and explore our selection of Rainbow and Arowana Fish for sale in New York. Let us help you create an underwater paradise to captivate and delight you and your guests. With our expert guidance and commitment to quality, your journey into the world of colorful delight begins now. Trust Monster Aquarium to deliver exceptional aquatic experiences for you to enjoy for years! 
Quick links
Contact us
13108 40th ROAD
FLUSHING NY 11354
718-500-FISH , 347-732-0373
Monsteraquarium@hotmail.com
About us
Bringing Fish keeping hobby back to life !