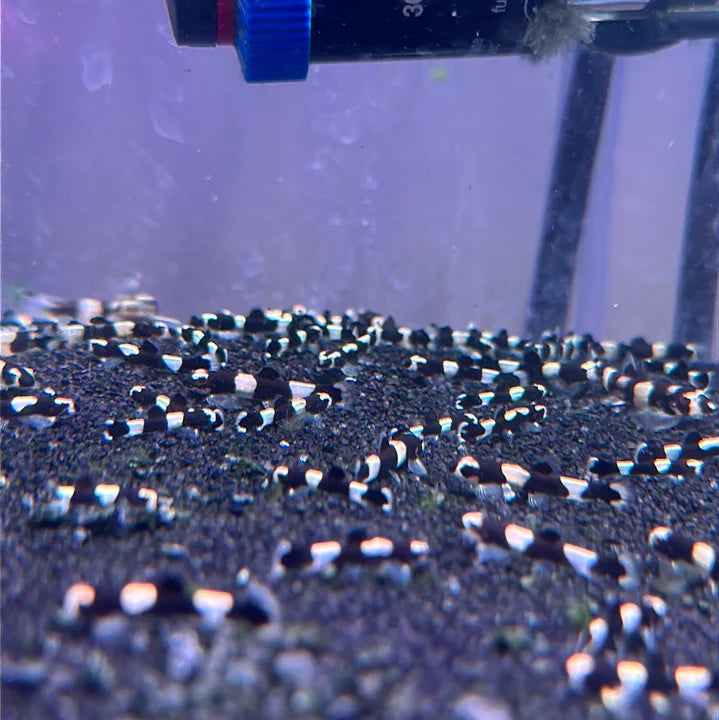 Posted on
---
Looking to add a touch of adorable charm to your aquarium? Meet the delightful Panda Loach, the cutest addition you can make to your underwater world. At Monster Aquarium, we are excited to offer Panda Loach for sale, along with a diverse selection of other aquatic wonders, including our exclusive Guppy Collection for sale.
Introducing the Enchanting Panda Loach:
The Panda Loach, also known as the Panda Garra or Panda Corydoras, is a small and captivating freshwater fish native to the rivers and streams of Southeast Asia. Named after its striking resemblance to a panda, this lovable fish sports a black-and-white color pattern that has won the hearts of aquarium enthusiasts worldwide.

Panda Loaches are renowned for their playful and active nature, as they constantly explore their surroundings and interact with other fish in the tank. They are peaceful community fish that thrive in groups, making them an excellent choice for both beginner and experienced aquarists.
The Cutest Addition to Your Aquarium:
Adding Panda Loaches to your tank brings an irresistible charm that captivates everyone who gazes at them. Their cute and panda-like appearance is sure to put a smile on your face every time you observe them frolicking around in your aquarium.

When kept in a well-maintained tank with plenty of hiding spots and smooth substrate, Panda Loaches thrive and display their endearing behaviors. Their gentle nature also makes them compatible with various other peaceful freshwater fish, adding to the harmony and diversity of your aquatic community.
Discover the Exclusive Guppy Collection:
In addition to Panda Loach for sale, our Guppy Collection offers a wide array of exquisite guppies in various colors and patterns. Guppies are one of the most popular and sought-after fish in the aquarium hobby due to their beauty, ease of care, and vibrant personalities.
Our Guppy Collection features a carefully curated selection of guppies, each displaying unique and dazzling colors that are sure to enhance the visual appeal of your tank. From bold and electric hues to soft and pastel tones, there's a guppy to suit every aquarist's preferences in our exclusive collection.
Buy Now and Elevate Your Aquarium:

 Don't miss the chance to add the cutest addition to your tank - the charming Panda Loach! At Monster Aquarium, we strive to offer you a seamless and enjoyable shopping experience. Buying Panda Loach for sale and exploring our exclusive Guppy collection for sale online is convenient and secure, ensuring that you receive healthy and vibrant fish to enrich your aquatic world.

Our team of experts is always ready to assist you with any questions or concerns, helping you make informed decisions and ensuring the well-being of your aquatic companions.
Final Thought
Make your aquarium a haven of charm and delight with the addition of the adorable Panda Loach. Explore our
Panda Loach for Sale
and the exclusive Guppy Collection at Monster Aquarium, and bring a splash of cuteness and beauty to your tank. Don't wait - buy now and elevate your aquarium to new heights of underwater enchantment!
Quick links
Contact us
13108 40th ROAD
FLUSHING NY 11354
718-500-FISH , 347-732-0373
Monsteraquarium@hotmail.com
About us
Bringing Fish keeping hobby back to life !