Posted on
---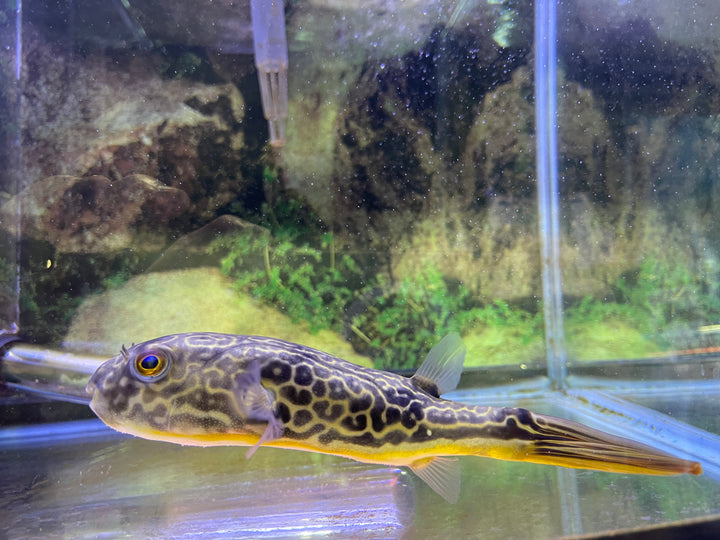 Are you looking to add a touch of spiky charm to your aquarium? Look no further than the delightful Aquarium Puffer Fish. These tiny aquatic wonders are irresistibly cute and make a unique addition to any underwater world. At Monster Aquarium, we are excited to offer Aquarium Puffer Fish for Sale, along with a diverse selection of other aquatic treasures, including the popular Rainbow Fish. And the best part?

We deliver to New York, so you can bring these fascinating creatures right to your doorstep.
The Enchanting World of Aquarium Puffer Fish:
Aquarium Puffer Fish, also known as freshwater puffers, belong to the Tetraodontidae family. They are adored for their unique appearance, with their spiky bodies and adorable round eyes. Puffer Fish have the ability to inflate themselves as a defense mechanism when they feel threatened, making them a fascinating sight to behold in your tank.

Beyond their spiky charm, Puffer Fish are intelligent and interactive creatures. Their curious behavior and quirky personalities make them a joy to watch as they explore their aquatic environment.
Buy Aquarium Puffer Fish For Sale and Unveil the Quirkiness:
At Monster Aquarium, we take pride in offering you a curated selection of Aquarium Puffer Fish for sale. Each fish in our collection undergoes strict quarantine measures to ensure optimal health before being made available to our customers.

Buying Aquarium Puffer Fish online from Monster Aquarium allows you to experience the quirkiness of these tiny wonders in the comfort of your home. Browse through our website, explore detailed descriptions, and choose the perfect Puffer Fish to join your aquatic family.
Introducing the Colorful Rainbow Fish:
In addition to Aquarium Puffer Fish, our diverse selection includes the ever-popular Rainbow Fish. Known for their vibrant colors and graceful swimming, Rainbow Fish is a stunning addition to any community tank.
Rainbow Fish come in a variety of species, each displaying its unique mix of colors and patterns. Their peaceful nature and schooling behavior make them excellent companions for other peaceful fish, creating a harmonious and visually appealing aquarium.
Buy Rainbow Fish in New York and Experience Aquatic Delight:
Whether you're in New York City or elsewhere in the state, Monster Aquarium offers you the opportunity to buy Rainbow Fish and other aquatic wonders with just a few clicks. Our seamless delivery service ensures that your fish arrive safely and promptly, ready to thrive in their new aquatic home.
Key Takeaways!
Aquarium Puffer Fish and Rainbow Fish are tiny marvels that bring endless joy and fascination to your aquarium. Their unique appearances and charming behaviors add an element of excitement and wonder to any aquatic setup.
Explore our Aquarium Puffer Fish for sale and the captivating Rainbow Fish collection at Monster Aquarium, and elevate your tank to new heights of underwater delight. Don't miss out - buy now and unveil the quirkiness and vibrant colors that will captivate and inspire both you and your underwater guests.
Quick links
Contact us
13108 40th ROAD
FLUSHING NY 11354
718-500-FISH , 347-732-0373
Monsteraquarium@hotmail.com
About us
Bringing Fish keeping hobby back to life !