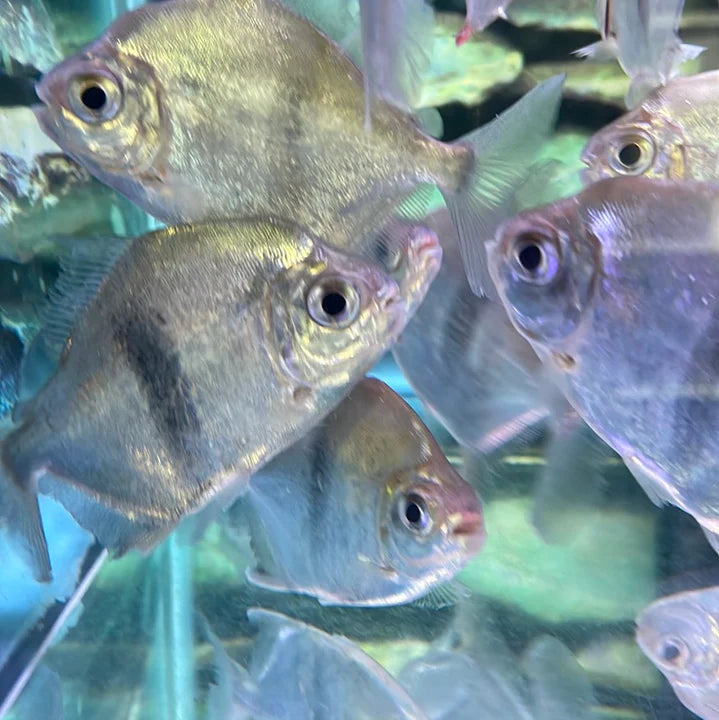 Posted on
---
Welcome to Monster Aquarium, your one-stop destination for all your aquatic needs! Are you tired of the same old fish in your aquarium? Do you dream of transforming your aquatic world into a shimmering paradise? Look no further! We have the perfect solution for you:
Silver Dollar Fish! These captivating South American Cichlid fish are now available for sale at Monster Aquarium. Let's dive in and explore why adding Silver Dollar Fish to your aquarium will elevate it to a new level of beauty and serenity.
1 Exquisite Beauty: Silver Dollar Fish are renowned for their stunning appearance. Their shimmering scales catch the light, creating a mesmerizing effect that will captivate you and your guests. Introducing these exquisite fish to your tank makes a visually striking focal point that will leave everyone in awe.
2 Peaceful and Sociable Nature: One of the critical reasons why Silver Dollar Fish are so popular among aquarists is their gentle and sociable nature. They thrive in a community setting and get along well with other peaceful fish species. Adding a school of Silver Dollar Fish to your aquarium will enhance its aesthetic appeal and promote a harmonious environment for all your aquatic inhabitants. Their friendly disposition makes them a delight to observe as they gracefully swim together in synchronized motion.
3 Low Maintenance: At Monster Aquarium, we understand that convenience is paramount for aquarium enthusiasts. We are pleased to inform you that Silver Dollar Fish is relatively low maintenance. They adapt well to different water conditions and are pretty hardy, making them suitable for beginners and experienced aquarists. With proper care and a well-balanced diet, these fish will thrive and provide you endless joy for years.
4 Educational and Engaging: Having Silver Dollar Fish in your aquarium enhances its visual appeal and offers an educational and engaging experience. These fascinating creatures exhibit various behaviors and characteristics that can be observed and studied closely. From their feeding habits to their social interactions, you'll have a front-row seat to the wonders of the aquatic world. It's a fantastic opportunity to learn and educate others about the marvels of nature.
Bottom line
Don't miss the chance to transform your aquarium into a shimmering paradise. Visit Monster Aquarium today and explore our selection of Silver Dollar Fish for sale. With their exquisite beauty, peaceful nature, low maintenance requirements, and educational value, Silver Dollar Fish is the perfect addition to any aquatic environment. Elevate your aquarium to new heights and enjoy the serene beauty these captivating creatures bring. Trust Monster Aquarium to provide you with the highest quality fish and exceptional customer service. Start your journey toward a mesmerizing aquatic oasis today!
Quick links
Contact us
13108 40th ROAD
FLUSHING NY 11354
718-500-FISH , 347-732-0373
Monsteraquarium@hotmail.com
About us
Bringing Fish keeping hobby back to life !