Posted on
---
Neon Tetras and Cardinal Tetras, have captivated the hearts of aquarists around the world with their vibrant colors and lively personalities. At Monster Aquarium, we understand the allure of these aquatic jewels and are committed to helping you ensure their well-being. 

In this Tetra Fish Care Guide, we'll provide you with essential tips to maintain a happy and thriving school of Tetras.
1. Tank Selection and Setup
To start on the right foot, it's essential to choose an appropriately sized tank for your Tetra school. Ensure that the aquarium is well-cycled and equipped with a gentle filter to maintain water quality and oxygen levels. Consider an aquascape that mimics their natural habitat, with plants and hiding spots.
2. Water Parameters
Tetras are sensitive to water conditions, so maintaining proper parameters is crucial. Aim for a temperature between 72-78°F (22-26°C) and a slightly acidic to neutral pH level. Regular water testing and quality maintenance are key.
3. Schooling Behavior
Tetras are known for their schooling behavior, which offers them safety and comfort. Keeping them in groups of at least six or more of the same species allows them to exhibit their natural behaviors and reduces stress.
4. Feeding Habits
A balanced diet is vital for Tetra health and color vibrancy. Offer a variety of high-quality flakes, pellets, and live or frozen foods like brine shrimp and daphnia. It's important not to overfeed, as uneaten food can deteriorate water quality.
5. Tank Mates
Choosing compatible tank mates is essential. Tetras are generally peaceful but can become stressed in the presence of aggressive fish. Opt for species that share their water parameters and temperament, such as peaceful bottom-dwellers or small, non-aggressive community fish.
6. Stress Reduction
Tetras can be sensitive to sudden changes or disturbances. Minimize stress by keeping their environment stable, avoiding sudden light changes, and providing places to hide. Dim, natural lighting is appreciated by these fish.
7. Disease Prevention
Vigilance in disease prevention is a must. Quarantine new arrivals before introducing them to your main tank. Regularly monitor your Tetras for signs of illness and act promptly if any issues arise.
8. Water Changes
Frequent water changes are essential to maintain high water quality. We recommend changing 20-30% of the water every two weeks, or as needed based on water parameter tests.
9. Breeding Tetras
If you're interested in breeding Tetras, create the right conditions, including soft water, slightly lower pH, and dim lighting. Provide them with appropriate spawning sites and closely monitor the breeding process.
Get Started Now!
At Monster Aquarium, we're committed to making the journey of Tetra fish keeping a rewarding experience. Whether you're looking to Shop Online For Tetra Fish or want to Buy Neon Tetra Online, we offer a wide variety of Tetras that are healthy and vibrant. These stunning aquatic jewels can bring a burst of color to your aquarium, and with the right care, they'll thrive and flourish in their new aquatic home.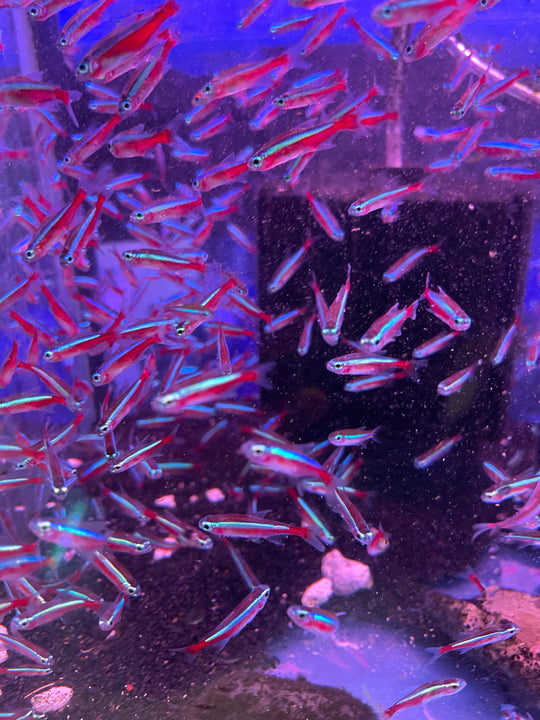 Quick links
Contact us
13108 40th ROAD
FLUSHING NY 11354
718-500-FISH , 347-732-0373
Monsteraquarium@hotmail.com
About us
Bringing Fish keeping hobby back to life !